Part Problem Solver \ Part Artist
This Master Fabricator made his name as a professional hot rod builder in Southern California. With 17 years of experience fixing, restoring, and custom building cars and trucks from all over the country, a job offer from Trick-Tools brought Brycen Smith and his wife to Pella in 2018.
After four years of using his expertise to create YouTube videos and teach how to use fabrication tools, Brycen missed working on cars. And that's where the Dutch Greeters came in. We gathered at a new custom hot rod shop to welcome PRD Design to Pella.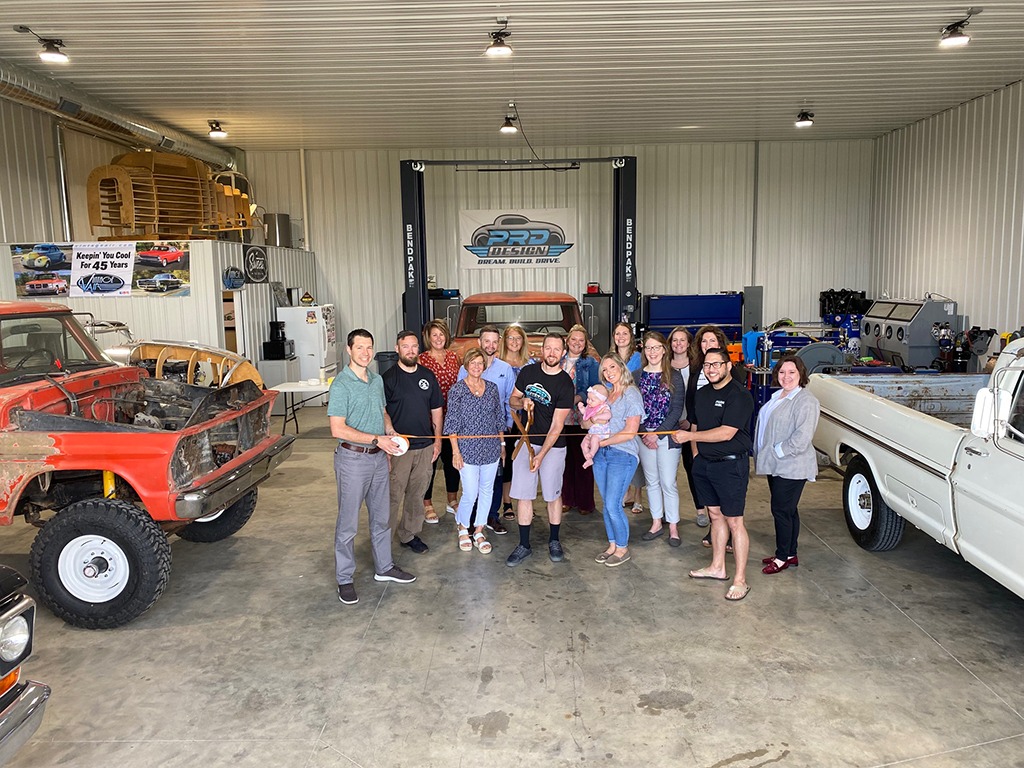 Brycen, his wife Christine, and daughter Avery opened the big garage door to fill us in on the new venture, the Ruptured Duck, and his passion for old Ford trucks and, more specifically, 1967-1972 "Bump-side" Fords.
Speaking of Ford trucks, maybe you've heard about Penny. She's a 1967 F250 that Brycen purchased from Doug's 4-Wheelers here in Pella and named after finding a 1967 penny under the truck's seat as he started to tear it down for the rebuild. After Twenty-two months of work rebuilding her into a resto-mod, where it looks old but has modern amenities like air conditioning and power steering, Penny sold at auction on bringatrailer.com for $130,000 last fall.
What's in the shop right now?
Several projects are currently in the works. One customer build is for the person who came in second place in the auction for Penny. He shipped us a 1969 F250 4×4, and I'm doing a full resto-mod. It'll have a new F150 engine and many modern upgrades, but we're leaving the exterior in its original patina because he's using it on his horse ranch in Colorado.
That same customer owns a 1970 F250 Crew Cab 4×4 that is 1 of 769 4-wheel drive crew cab trucks made in 1970. I'm stripping it down to the bare metal, refinishing, and updating it with a new Ford 7.3l "Godzilla" Super duty engine. It will have all the creature comforts of A/C, power brakes and steering, and much more.
We have a 1969 F100 Ranger with 10k original miles, two 1969 F250 Crew cabs, and a 1971 F350 Crew Cab, all for a local Iowa customer. These have varying amounts of work planned per the customer's wishes.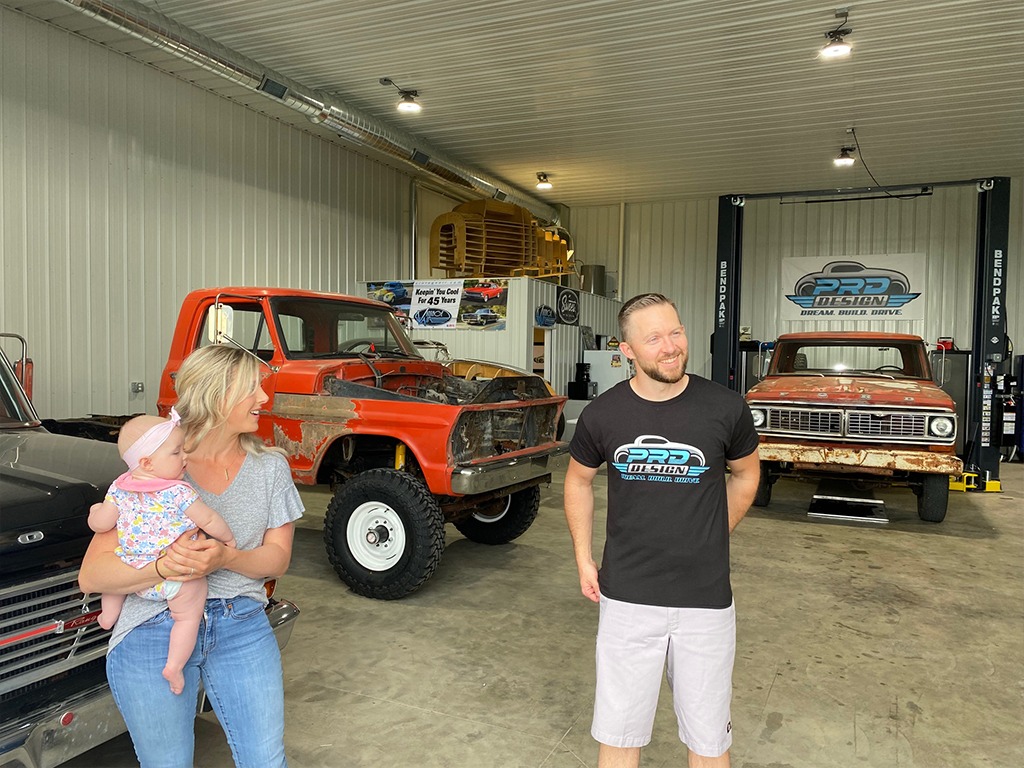 What does PRD Design stand for?
PRD is short for "Project Ruptured Duck." That is the name of the completely custom hand-built car project that Brycen started back in 2015. The Ruptured Duck name came from the number 7 B-25 bomber used in the Doolittle Raid during WWII . Imagine what you would get if you combined the famous World War II B-25 Mitchell bomber with the performance and technology of a modern sports car.
When the Duck is completed, not only will the shop name live on as an ode to the project, but 45% of the proceeds will be donated to Homes For Our Troops, where 90 cents of every dollar goes to building custom homes nationwide for Veterans who have suffered severe injuries post 9/11.
How do customers find out about RDP Design?
I market myself on social media, and Instagram has been a fantastic tool. I'm also in several Facebook groups. Much of it is word of mouth, as I've been in this industry for many years, and you get to know many people. Most of our customers are from out of state.
How are you adjusting to living in rural Iowa?
Pella is a unique small town and does a good job of keeping the town relevant – the industry here really helps with that. It's comfortable to live here and we're close enough to other things we want to go and do. We've had to adjust, but we've made good friends and "Iowa Nice" is definitely a thing! The pace of life is obviously slower here and it's nice in the sense that you are able to relax a bit more and that means less stress.
Need aftermarket parts?
PRD Design is also a dealer for several aftermarket automotive parts companies, including but not limited to:
Vintage Air
Dakota Digital
American Auto Wire
BedWood
Sweet Patina
Summit Racing
SPD Exhaust
Get in contact:
Brycen Smith – Owner
PRDDesign.com
641.619.5859
Brycen@prddesign.com
Hours:
M-F 8 AM-5 PM
431 SE 14th St.
Unit 4
Pella, IA 50219
Pella native, Christi Vander Voort, is the Communications & Member Relations Director at the PACE Alliance.
Her role is responsible for providing communications to PACE Alliance members and the community of Pella on the activities, events, and announcements, as well as promoting Pella to prospective residents and businesses. Follow along on Facebook and Instagram as she puts her creativity to work to build community and awareness of all things that make Pella the best place to work, learn, play, and live.
If you have a story idea, please contact Christi at christi@pella.org.