A small business with big ideas, the Write Place is a team of professional writers and graphic designers working with businesses and self-publishing authors. On the heels of celebrating their 25th anniversary last year, the company has evolved from a one-woman, home-based business to a busy marketing and communications crew operating out of two locations – Pella, Iowa, and Lakeville, Minnesota. Areas of expertise and service for businesses include brand identity and logo design, print advertising, online marketing, writing/editing/proofreading, website content writing and design, social media, video marketing, and more. For authors, the Write Place helps navigate the labyrinth of self-publishing with a customized, personal approach from start to finish. See samples of their work and read what others have to say!
1. Can you describe your business?
We sometimes find that challenging to answer because we do quite a lot! I would say we're a creative agency focused on helping businesses tell their stories with professionally written content and engaging graphics. Our clients come to us for everything from blog articles and website designs to newsletters and promo videos. The Write Place's book division helps authors and businesses navigate the self-publishing industry, offering book editing, cover design, layout, printing, and distribution services.
2. Can you share the story behind your business?
The Write Place started as a one-women, home-based business. Carol Van Klompenburg was asked to help write a newsletter for a local organization, and it grew from there. I (Lexie Thomas) bought the business from Carol in 2019. I started with the Write Place in 2005 after I graduated from Wartburg College. My graphic design and public relations experience helped the WP expand its services into new areas our clients were asking for support in. We started doing more logo, brochure, and website design work in addition to newsletters. I lived in Pella when I started with the Write Place. My husband's career has moved us around the Midwest, and today we're settled in Lakeville, Minnesota. I've been lucky enough to continue to work from home and run the business as we've relocated. Pella continues to be home base for the Write Place; our office space is in the Ship It building.
3. What is your favorite aspect of owning your own business?
It's rewarding to help steer the services we offer as the marketing and graphic design industry changes within today's digital landscape. Talking to other businesses about how we can help them support their communications or connect with new audiences and markets is energizing for our team. The feeling is amazing when we hear from our clients that the campaigns and projects we've worked on have contributed to them having record sales.
4. Tell us about a favorite customer memory/interaction.
Our client Yetter Farm Equipment is based in Illinois, and last year I traveled to take photos and videos at their two manufacturing locations. Working with them through phone and email is very doable, but getting to connect with them in person and see their operations firsthand was a great opportunity.
At our Pella site, our team has enjoyed building strong relationships with our local clients. For example, when Pella Engraving & Sign Company was redoing their website, we spent a lot of time at their offices, learning about all their cool equipment so we could write about it and taking photos of their incredible work.
5. Any challenges overcome in operating your business?
As a team of just four, we often end up filling our days meeting our clients' needs. And in my case, as the owner, doing critical business tasks on top of client work. So even though promotion and marketing are what we do, following through on that for ourselves often gets bumped down the list!
6. Favorite success story or a big win regarding your business?
Over the past year, we've had the opportunity to support the Pella Fiber team with their communications and marketing materials. It's really exciting to have a part in creating content to promote a project that's bringing so much value to the Pella community.
When COVID hit and many tradeshows went virtual, we were also able to shift one of our clients into focusing on video marketing. In the past year, we've produced over 30 videos for them promoting their products.
By the start of 2021, our book publishing services reached a milestone: over 100 books published. Over the years, we've helped dozens of Iowa authors turn their manuscripts into books.
7. Any services you offer that people may not know about?
With so much more interaction happening online, lots of businesses are hoping to make the most of photos and video they've taken themselves. We can add text, graphics, and music to turn their material into a powerful video marketing tool.
8. Best business advice received?
Always be on the lookout for ideas to leverage your core strengths in new ways.
9. Where are you from/grew up?
"I grew up in Ackley, Iowa, on a small family farm. I attended Wartburg College in Waverly.
10. What did you want to be when you grew up?
An interior designer or zoologist.
11. Tell us about your family.
Husband, Jeremy, of 15 years. Two kids. Asher, age 10, fourth grade. Shaelyn, age six, kindergarten.
12. Any interesting hobbies/interests?
Helping run the local youth wrestling program and occasionally coaching when Jeremy/Dad is on another mat.
13. What is something people would be surprised to know about you?
I sang with the Wartburg Choir in college … and played rugby.
14. What is the last book you read?
Letter to My Daughter by Maya Angelou
15. Favorite place you have traveled?
Toss-up between South Africa and Sonoma, California.
16. Favorite blog or podcast?
Stuff You Should Know
The Write Place team in Pella – Sarah Purdy (publishing consultant and editor) and Michelle Stam (print and digital designer) – join Lexie to share their favorites around town!
17. Favorite place to dine in Pella? Favorite dish?
Lexie: Smokey Row used to have these amazing bagel knots that Jeremy and I would make sure to pick up after we moved. I'm not sure they still have them. Now, I have to make a trip to Jaarsma Bakery when I am back in town for the cream-filled bismarks, giant sugar cookies, and Dutch letters to bring home to Lakeville. And sometimes Pella bologna for my uncle!
Sarah: Pizza from George's has been a staple for me since I was a student at Central! I also have a major sweet tooth; I'll never turn down a cupcake from Cranberry Stone or a frosted sugar cookie from Vander Ploeg's.
Michelle: I have several food sensitivities, and I love that the Applebee's menu is so friendly to my diet. Ribs and Irresist-A-Bowls are some of my favorite foods to get there. I also love the Big Acai Bowl—I go there when I'm craving something sweet!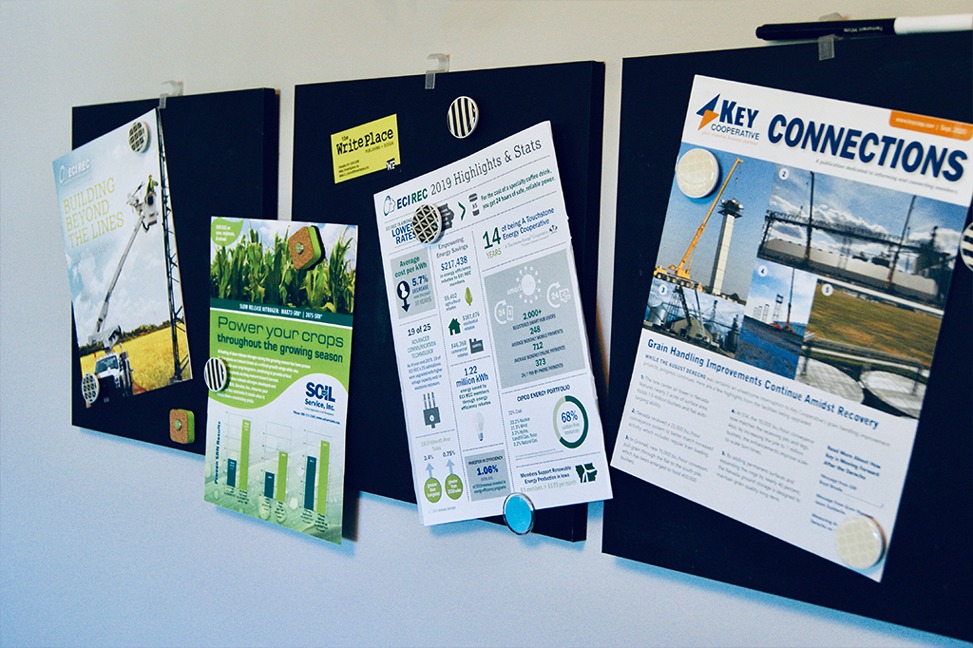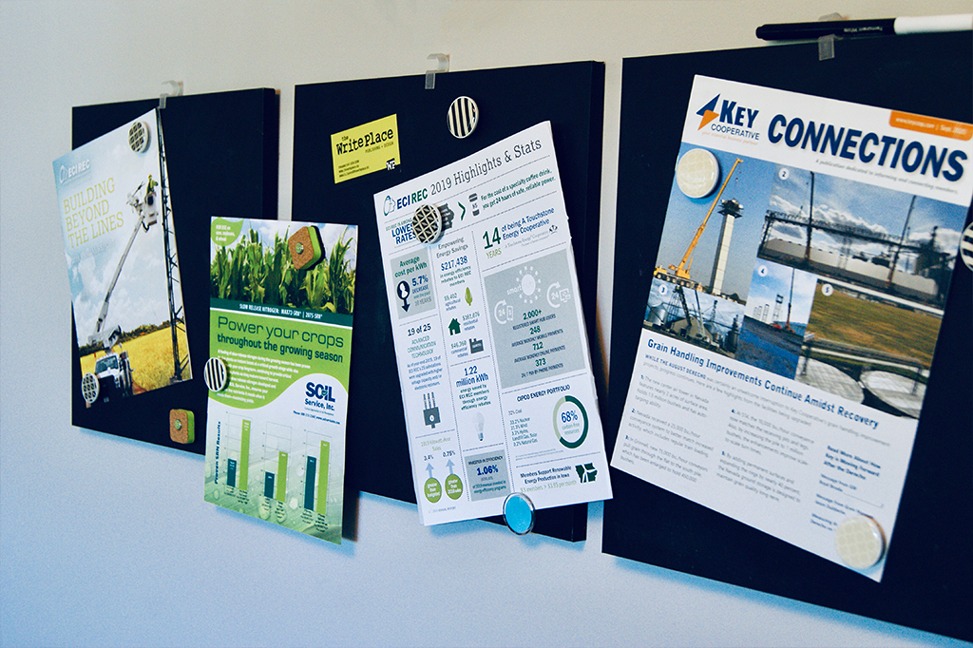 18. Favorite place to get a coffee/tea/beverage?
Sarah: Sweet tooth again … The Perk has the best hot chocolate!
Michelle: Smokey Row is my go-to—they have great drinks and I've had many great times there with family and friends.
19. What is your ideal Saturday morning?
Lexie: A three-mile run, coffee shop coffee, and watching my kids play sports.
Sarah: Waking up without an alarm, then tea and breakfast with a good book. Ideally reading on my patio, but I'll also take a cozy blanket if it's cold.
Michelle: Sleeping in, drinking tea, reading or listening to a book while relaxing, and visiting my grandma.
20. Pella's best-kept secret?
Michelle: Is it cheesy to say the Write Place? But honestly, I love that there are carriage rides and free hot cocoa downtown in December. It looks like a Hallmark movie!
Sarah: As a proud alumna, I have to say football games at Central College. A great way to spend a fall day!
21. Where do you go to unwind/relax?
Michelle: Over my lunch break (when it's warm enough out!), I find it very relaxing to go to one of the parks in town to eat my lunch, read a book, and go on a little walk.
Sarah: I like to sit in the Scholte House Gardens, especially when the tulips are in bloom.
22. What is your favorite aspect about being in the Pella community?
Sarah: I've been in seven shows with the Union Street Players, Pella's community theater troupe. Each one has been so much fun! Not only have I played a dancing plate and a mermaid, but I've also made some incredibly dear friends—both from Pella and the surrounding towns!
Lexie: Local businesses are truly committed to helping each other succeed and advance.
Michelle: I love the small town, friendly atmosphere, and all the talented people who live and work here. One of my favorite things is that vehicles will stop to let you cross the street—even if you're not at a crosswalk. We often take it for granted, but it's part of what makes Pella stand apart from other communities. It's more than "Iowa Nice" … it's "Pella Nice."
23. How can people find you?
online at thewriteplace.biz
Facebook: @thewriteplace
641-628-8398