Nothing kick starts a morning quite like a visit from a goat in ruffles! Just ask the Dutch Greeters who welcomed new PACE Alliance Member, 10X Wellness with a Ribbon Cutting. We met 10X Wellness owner, Angela Corell, and learned how she uses goats, nutrition, and massage to help her clients feel their best.
Angela is a licensed massage therapist. She began her career 21 years ago after completing school at the Utah College of Massage Therapy. From there, she relocated to Arizona and eventually found her way back to Sully, Iowa where she currently resides and runs 10X Wellness.
Angela offers various services including Reiki, Hot Stones, and Essential Oils. She is also a certified Nutritionist focused on nutrition and overall health.
Enter the goats. One of Angela's most popular ventures with 10X Wellness is GOAT YOGA! You heard that right, goat yoga!
"Believe it or not, goat yoga is a part of health", said Angela. She continued " Through yoga and meditating and the joy that little animals bring it's a great boost to mental and physical health. Goat yoga is much like regular yoga, but with goats. I fence off an area and the goats wander around and start to warm up to people throughout the class. By the end, they are able to pet the goats, and the goats will even stand on people and nibble their toes. The interaction is great, especially for the Mom and Toddler yoga classes I host. It's fun and interactive".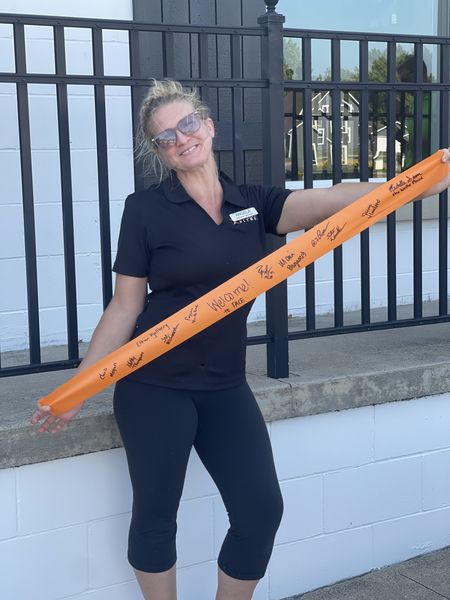 Can't make it to Sully for a Goat Yoga Class? No worries! Angela travels with her goats. She is available for hire at private events, parties, and locations. She even takes the goats to Senior Assisted Living Facilities The goats provide connections for the residents and aid with memory care unit patients. In the words of Angela, "I consider the goats my little service animal buddies. They just bring such big smiles to people's faces".
At the end of the day, Angela and 10X Wellness are all about health, nutrition, and helping others feel the best they can. "For example, I have a lot of clients with health issues. I massage a lot of older people who suffer from joint problems. I focus on nutritional wellness that reduces inflammation for them. Even just one dietary substitution can completely transform a person's life. What we eat contributes to our overall health. Remember we are what we eat and we are what we eat eats. Basically, everything works together from mental to physical for overall well-being to feel healthy" said Angela.
10X Wellness is located in Sully, Iowa. Angela currently operates in a space in her mother's basement and is remodeling her home to expand and implement an infrared sauna.