It's More Than Yes To A Dress
Shopping for a wedding dress is more than just saying yes to a dress. It should be an intimate experience with a bride's closest family and friends as she chooses a gown for her special day. And, this is exactly the thought behind the Holland Bridal Shoppe experience.
Holland Bridal Shoppe owners, Bri Buzick and Mallory Gritsch, met the PACE Alliance Dutch Greeters as we welcomed them to town as a new business and member of the PACE Alliance. Holland Bridal Shoppe is a bridal gown boutique that shines a special light on the bride and her experience in finding the perfect dress.
"Both of us were recently in the thick of things when it came to wedding dress shopping", said Bri (who is getting married in June) and Mallory who recently got married. Bri continued, "We noticed there really was a gap missing for that intimate experience when looking for a dress." With this thought in mind, the vision of Holland Bridal Shoppe took shape.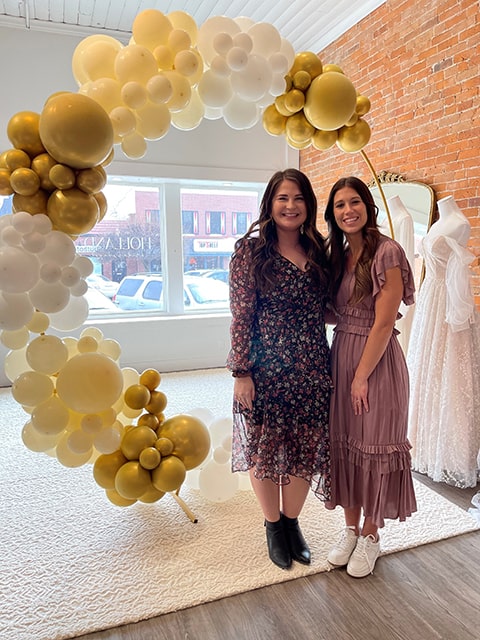 Both Bri, an attorney, and Mallory, a former special education teacher, are originally from Pella. As they talked about the missing elevated bridal experience in the market, they knew Pella provided the perfect setting to open their store.
"Pella is the ultimate girls' trip locale. It's perfect for a weekend getaway or even a day trip. There are restaurants, shopping, and hotels that add to the experience. The only thing missing for that special gown shopping weekend was a bridal shop." said Bri. And thus, Holland Bridal Shoppe took form.
Holland Bridal Shoppe is all about the experience and not just the dress. "From the minute brides and their entourage step in the door, we want them to feel like they are in an elevated living room where they are shopping with their best friends and family. We are just an extension. We want brides to feel comfortable and like we are just two more of their friends helping them find their special dress.", said Mallory and Bri.
The Perfect Dress at Holland Bridal Shoppe
All of the dresses in Holland Bridal Shoppe are handpicked. They currently carry about 60 dresses ranging in price from $1000-$4000, with the bulk priced under $2500. They also carry custom veils, jewelry, and hairpiece accessories. They offer a preferred list of vendors that includes recommendations for alterations. The average dress takes about 16 weeks to get in so they suggest searching for your wedding dress no later than 8-12 months out from your wedding date.
We have felt so welcomed by Pella. We are so grateful for everyone that came out to our grand opening and sent flowers. It feels wonderful to be so warmly received by the community!.", exclaimed both Mallory and Bri.
Holland Bridal Shoppe is by appointment only, adding to the personalized shopping experience. And, that's just it, the experience is the real focus behind the vision of the bridal shop. Several brides have already said yes to the dress and Bri and Mallory can't wait to continue to be such an important part of each bride's experience. "Both Mallory and I agree that the most rewarding part is seeing the brides light up and shine when they find their wedding dress. It's exciting to be a part of that moment.", said Bri.
To schedule an appointment or learn more about Holland Bridal Shoppe visit: https://hollandbridalshoppe.com or email info@hollandbridalshoppe.com
727 Main St – Pella, IA
641-204-1528