Organize Your Life!
You know those Instagram pictures of your dreams featuring beautifully organized homes adorned with perfect labels and all the aesthetic good vibes? Well, guess what? Those dreams can be a reality! Just asked the Dutch Greeters who welcomed new PACE Member,
NEAT Method Des Moines
, and learned about the gorgeous organization we all envy!
We greeted Emily Peters, owner of
NEAT Method
Des Moines. With a sunny personality and radiant smile, she excitedly explained all about her small business. Before we dive into her story, I bet you are wondering, what exactly is NEAT Method Des Moines? Well, simply put, it is a professional organizing and moving service. Now that we know what it is, let's learn about Emily and her journey to becoming a small business owner.
Emily is originally from the area and currently lives in Pella. NEAT Method Des Moines started in 2017 when Emily was just an employee of the company. She became best friends with the then-owner. Emily moved to Kansas City for a marketing job but knew she wanted something more. She returned to Iowa and soon thereafter purchased the NEAT Method franchise from her friend.
Emily owns the 65-mile radius around the Des Moines Metro for NEAT Method. She absolutely loves her job and the people she gets to meet. In fact, she loves her job so much that she wants to expand and share her services with the town she calls home, Pella!
"We love Pella. I don't ever see myself leaving Pella. Pella is the perfect place and opportunity to meet people, network, provide services, and grow my business", said Emily.
Here's how the NEAT Method works
NEAT Method handles home and office organization in any space you can think of. From kitchens, pantries, closets, bedrooms, garages, and beyond. Emily and her team have you covered. In her words, "If you can think of a space that needs organizing, we can do it." NEAT Method also offers moving services with assistance in packing and unpacking (which can be overwhelming if you've ever tried to fit the function of an old house into the space of a new home).
Ok, now down to the good stuff. What's the process to get a space from chaotic to functioning, organized, and attractive? Here's how it works:
Inquire about NEAT Method services.
Emily will set up an in-home consultation.
Emily and her team learn everything about how your life functions in your space – and we mean everything. "We learn it all. How many children do you have? Does your wife cook? Does your husband cook? Are you left or right-handed? Do you order out? Do you entertain? We find out everything there is to know how you live in the space you want organized. This is how we find what will best work for you", Emily explained.
Plan for the project. Emily will then send an estimate/quote with product options.
Book the service.
Obtain your organizational dreams.
#goals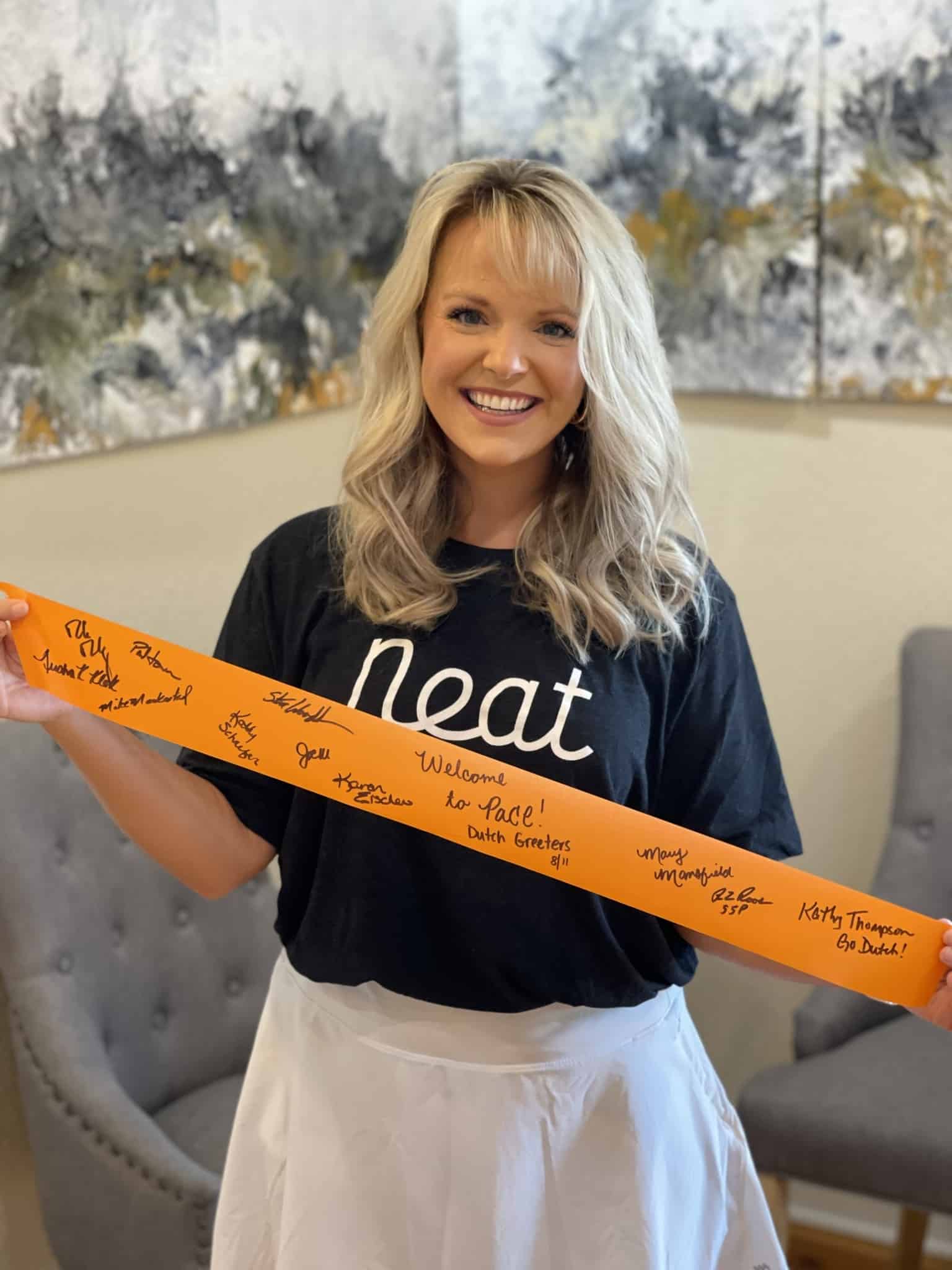 When asked what her client's favorite part of the process is, Emily said, "Well, besides the finished product, it has to be the realization that they don't have to handle trash and donations. Yep! We help clients sort items into Keep, Donate, and Trash. We handle all of the removal of trash and will take all items to be donated. It is a huge relief to clients that they don't have to handle that part of projects, and there is no additional fee! This is something we include with our services."
NEAT Method Des Moines also specializes in finding the perfect organization products and labels to fit your space. NEAT Method offers its own product line (which Emily said is AMAZING and you need to check out on the website), but they will also work within the client's budget. Emily said there are tons of options for organization out there, including Target, Walmart, Lowes, The Container Store, and even Menards!
They also offer a "Refresh Service" for your spaces. This service is a touch-up resource. NEAT Method will return to your home every three months for a two-hour refresh. This includes altering functionality, changing labels, and ensuring everything still works for the client. Life changes, and so can function, and NEAT Method wants to ensure that the organization of your house still works for you!
The Dutch Greeters had one last question for Emily. What is her favorite thing to organize? She excitedly said, "Every time I leave a project, I think it's my new favorite. My team assures me I say that every time, but I can't help it! I love my job and business. But I do love master closets. I think the main reason is because it contains people's clothes and personal items they use daily. They are in their closets every day getting ready, and I love making that process more fun and functional. Oh! And garages! I love garages, but only April through October unless they are well heated because if you know me, you know I don't like the cold."