Dutch Greeters welcomed Daniel Robbins and his Brazilian Jiu-Jitsu (BJJ) School to Pella. What started as a hobby in a friend's garage just 6 short months ago grew into what is now know as
Pella Brazilian Jiu Jitsu
. Located in a storefront near the Sports Page Grill, the gym has drawn a growing community of veterans and their families from the area who use the sport to improve their health and wellness, and make connections.
After honorably discharging from the Army as a highly decorated Sargent with a Bronze Star with Valor for his life saving actions in Afghanistan, this Iowa native found his passion for the BJJ sport. Training for the last 10 years with some of the world's best in BJJ like Jocko Willink, Dean Lister, and Saulo and Xande Ribeiro. Daniel moved to Pella to be near family and is excited to share his expertise and experience on the mat.
Daniel's BJJ gym has already grown to 35 members to include his older brother David, also a retired Army veteran, and local Army Recruiter
Matthew Trout
. Together they teach the sport they love to all ages from 4 years old to Masters, offering 18 classes a week.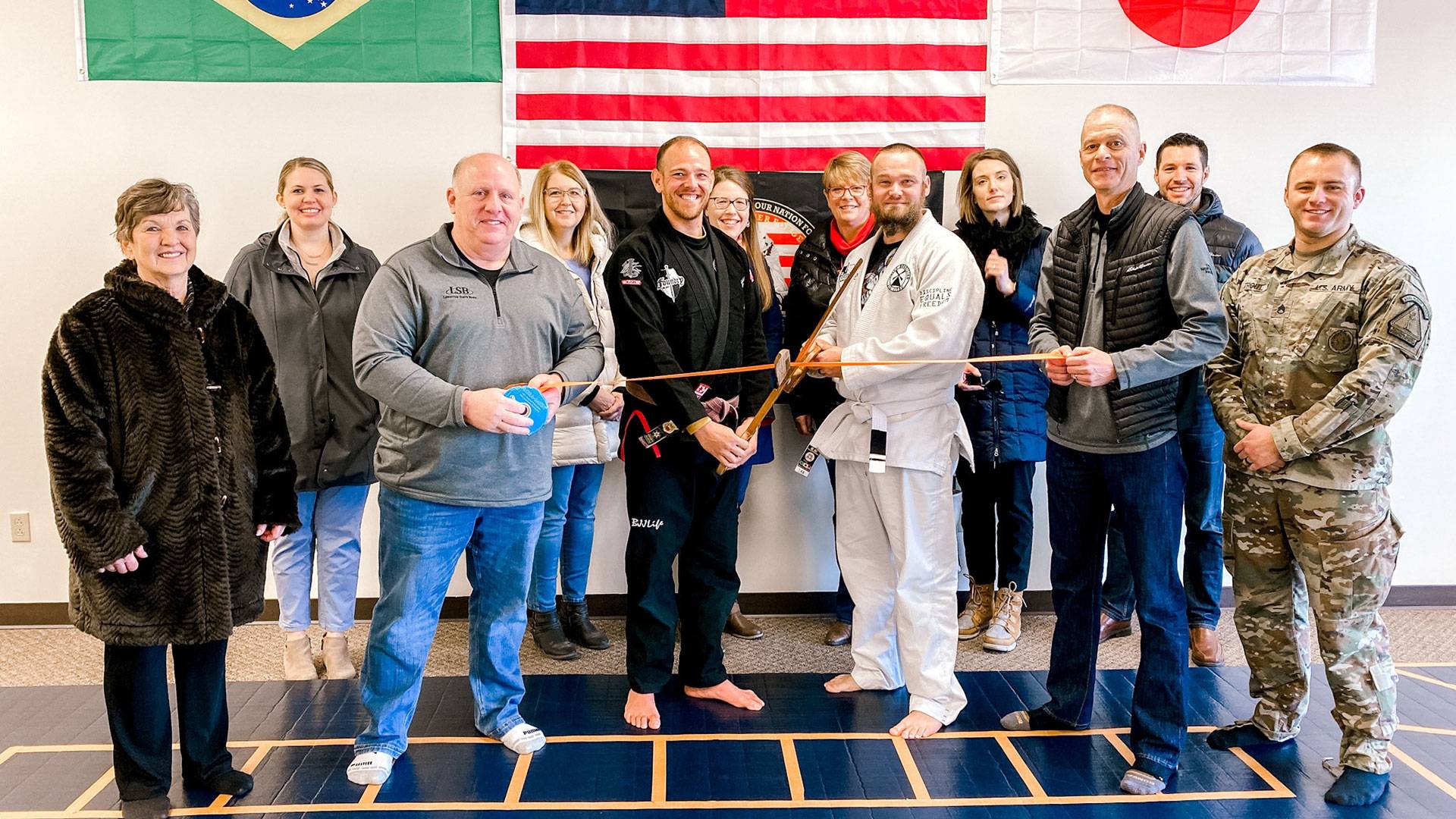 What is Brazilian Jui-Jitsu? BJJ focuses on ground fighting with the use of clothing as a weapon. The idea is a smaller opponent can overwhelm a larger one by leverage, frames, chokeholds, and joint locks to win the fight. BJJ requires patience and focus and is like playing chess with your body.
In 2003, Brazilian Jui-Jitsu became the official form of hand-to-hand combat of the U.S. Military.
"We're building a veteran community by partnering with the VFW and we're in conversations with the American Legion. We want veterans to know there's a home here in Pella for them."
The Robbins brothers believe in giving back to the community and offer reduced rates for Veterans, law enforcement, first responders, and industrial workers.
What does success look like? In just the last 4 months Pella BJJ trained and sent four people to compete at the Sub Spectrum competition in Des Moines in January. With almost 300 competitors in all age bracket, Pella BJJ brought home 5 medals with only 4 competitors. "We definitely made a mark for Pella Brazilian Jui-Jitsu."
Hours:
M, W, F – 5:15 – 6:15 AM, 5 – 8 PM
T, Th – 4 – 8 PM
Saturday – Competition Training
Pella Brazilian Jui-Jitsu
1101 W 16th St, Pella, IA 50219
Pella native, Christi Vander Voort, is the Communications & Member Relations Director at the PACE Alliance.
Her role is responsible for providing communications to PACE Alliance members and the community of Pella on the activities, events, and announcements, as well as promoting Pella to prospective residents and businesses. Follow along on Facebook and Instagram as she puts her creativity to work to build community and awareness of all things that make Pella the best place to work, learn, play, and live.
If you have a story idea, please contact Christi at christi@pella.org.