Big City Girl Finds Community In Pella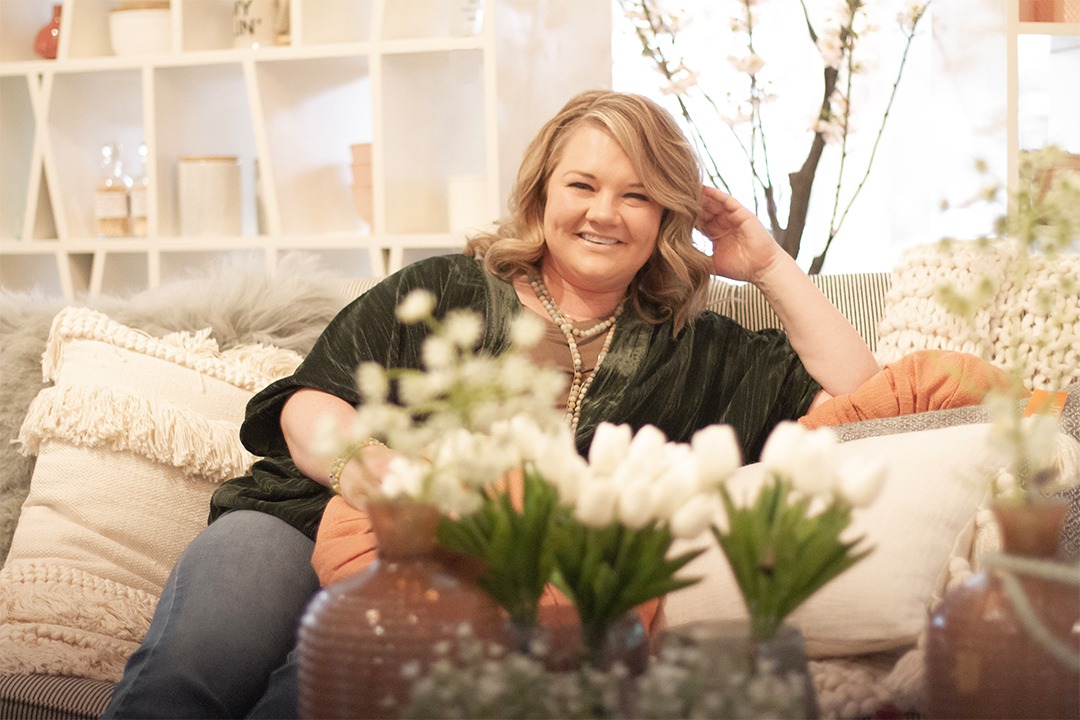 She beat me to the Brew where we were meeting for coffee. I walked in and was greeted with a smile, a wave, and a "hey girl" from a gal wearing black and white polka-dotted glasses and a bow in her blonde hair. She had just won the coveted Best of Red Rock award, "Top 10 Under 40", and I wanted to get to know Mary Mansfield and her firecracker personality.
If you've had the pleasure of sitting down with Mary, a former traveling bartender at Ocean Properties Limited turned real estate agent and property manager in the Pella area, you know she has a drawer full of glasses that match her outfits and she's not too worried about fitting in.
"I love getting to know people and if I like your shoes, I'm going to tell you," she said. "I'm the kind of person that thinks the best of people and really hope they think the best of me, too." She really doesn't stop smiling the entire 90 minutes we're together!
So how did a girl from Maryland make her way to the Midwest via Florida? Her father is the Chief of Police here in Pella! WHAT?
Back in July of 2016, Mary came to visit her parents who had recently relocated to a smaller community in the Midwest with a quieter feel. She fell in love with the refreshing step away from big city life, the rich history in Pella, and the people..and the rest is history.
"Growing up, and always living in a city, I was surprised by the sense of community here in Pella – how people embrace and support each other. I embraced that." 
It didn't take her long to jump in with both feet. With the dream of becoming a real estate agent in the back of her mind, Mary got her license and joined Home Realty. "Buying a home is the biggest purchase of most people's lives and I wanted to be the one they could trust," she said. As a self-proclaimed relationship person, Mary said most of her coworkers and clients have become friends and family. I can vouch for that. We're already best friends!
Now that she's a familiar face around town, I asked Mary what she'd tell someone who was just moving in. "Volunteer and get involved. It really is up to you to join in and embrace the rich culture here," she said.
That proven formula worked for Mary as she has a long list of organizations and activities she's given her energy too.
PACE – Council of Chairs
Chair – PACE Events Council
Past President – Pella Dollars for Scholars
Facilitator – Personal Self Reliance Budget Course
Facilitator – Pella Christian Winterim: Adventures in Real Estate Course
Chair – PACE Fridays After Five Committee
Thursdays in Pella Committee Member
Dutch Greeters Member
Past Rotarian International Member
Pella Police Department Citizens Police Academy
Pella Police Department Advanced Citizens Police Academy
Tour of Homes
Fourth of July Parade
Tulip Time
Hearts for Hospice
PACE Golf Tournament Fundraiser
There are so many activities in Pella, find something you're passionate about and get involved. And if you can't find it here, start it!" she said. "I want people to love living here and for those that visit, I want them to say, 'I can not wait to go to Pella again!'"
Her desire to give back and make a difference is one reason Mary was nominated for the "Top Ten Under 40" award.
When asked what the award means to her, she lowered her voice for the first time in our conversation and said, "It was so humbling and a complete honor to know people believe in me and the community supports me even though I'm not from here. I have a good tribe."
She believes in the philosophy that you should leave things better than you found it, and that goes for where you live, too. Although she quickly clarified that she's not going anywhere!
Mary Mansfield, award winner and community builder – wherever she goes.