PELLA IMPACT AWARDS
The Pella Area Community & Economic Alliance is proud to recognize the significant impact our members have made on the community. The recipients of all of these awards come from a variety of backgrounds, but all have positively impacted how we live, work, and play in Pella.
The honorees were selected for their overall impact on the quality of life in Pella, collaborations and partnerships, innovative programs or events, entrepreneurial spirit, and impact to the local economy.
Each of our award winners, in very unique and different ways, has unselfishly contributed their time, talents, and teamwork to make Pella a better place.
2021 Impact Award Winners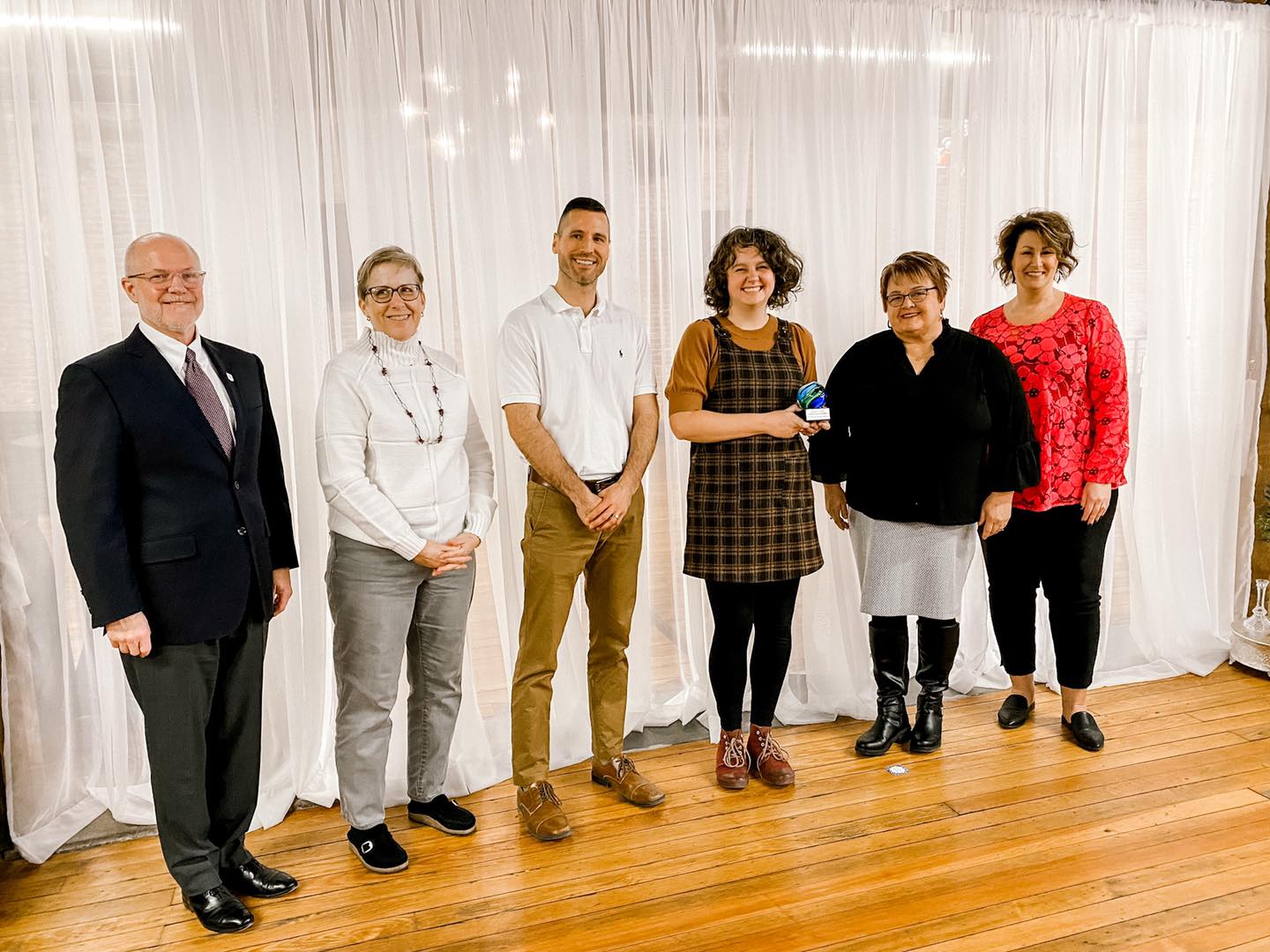 Pella Historical Society – Mark Putnam, Ann Visser, Derek De Haan, Jessi Vos, Val Van Kooten, and Karen Eischen
HERITAGE AWARD - HISTORIC PELLA TRUST
The Heritage Award is given to a business, organization, or individual whose efforts go above and beyond to honor and elevate the unique heritage of our community. 
It's safe to say that everyone is familiar with our Pella Historical Society and its dedication to preserving the rich roots from which our community was born. They could fit into the Heritage Award category every year.  However, this past year was extra special. Their work, programming, and projects went above and beyond and we want to recognize Pella Historical Society for their elevated efforts and commitment to our heritage.
It's not an easy task to make history relevant in the modern world, yet this is precisely what they have accomplished this past year. From a full overhaul of the Wyatt Earp House, renovations to the Scholte House, hosting a Winterim High School class, and implementing programming that is fresh, exciting, interesting, and appealing to a younger target audience, Pella Historical Society has ensured that Pella's history, landmarks, architecture, and preservation of customs and heritage will thrive into the next generations to come.
In addition, they successfully navigated two Tulip Times, events that took on a very different light with pandemic protocols. They did not deflate or lose gusto. Instead, Pella Historical Society reimagined the festival and implemented modifications that allowed them to continue almost every aspect of Tulip Time in a safe way.  
Thank you Pella Historical Society and Museums for enhancing and caring for Pella's beauty and history. Congratulations and we are proud to present you the 2021 PACE Alliance Heritage Award.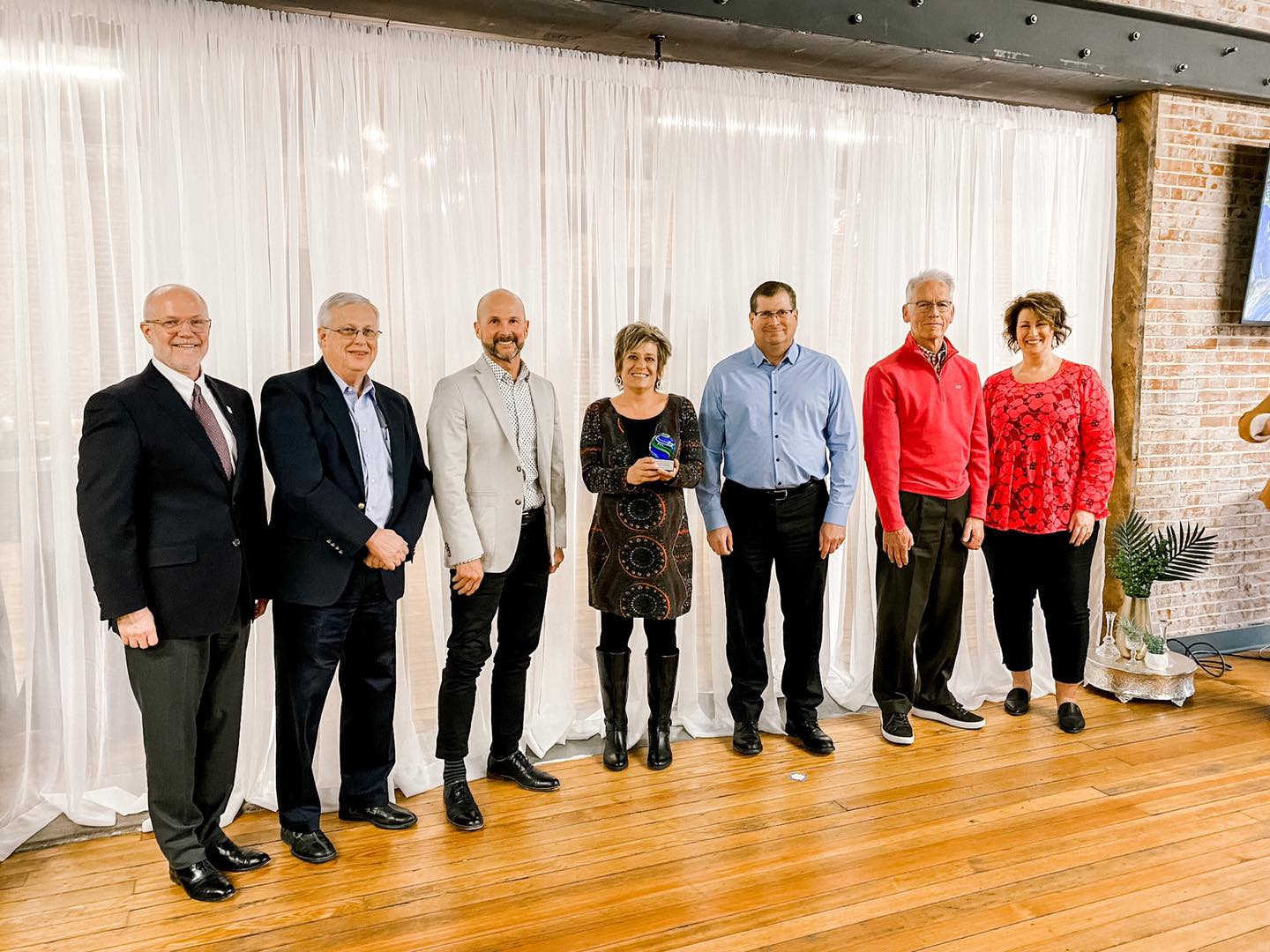 Pella Kiwanis Club – Mark Putnam, Mike Morgan , Matthew Burch, Teresa Rietveld, Mark Wiskus, Fred Kreykus, and Karen Eischen
COMMUNITY IMPACT AWARD - PELLA KIWANIS CLUB
The Community Impact Award​ is given to a business, organization, or individual who through their actions, events, programs, or partnerships has made a significant impact on the quality of life and the overall betterment of Pella.
Through collaborative and dedicated efforts the Pella Kiwanis Club worked faithfully to bring Pella the Wonder Spelen playground. They truly embodied an inclusive community-based spirit as they garnered fundraising from large donors, private foundations, public entities, and individuals to bring a fun, safe, state-of-the-art playground to Pella. 
The Kiwanis motto is: "Serving the Children of the World"  and their core values center around improving the world one child and one community at a time – and they most certainly have in Pella.
The Pella Kiwanis Club saw a need within our community. They developed and implemented an opportunity to create a unique playground. A vibrant and colorful space where people of all ages and abilities can play together. A space where all are welcome and no one is left out. A customized playground that enhances the social, emotional, and developmental growth of families with special needs.
And, their humanitarian efforts don't stop there. You can see the friendly and familiar faces of our local Kiwanis Club making poffertjes at Tulip Time and Thursdays in Pella. Or perhaps you know them from Pella's  Annual Easter Egg Hunt.
Thank you Pella Kiwanis Club for not only your dedication to the mission of the Kiwanis organization but for your dedication and collaborative work in our community. You are true stewards of service and what it means to make an impact in Pella.
Congratulations to Pella Kiwanis Club, the 2021 PACE Alliance Community Impact Award.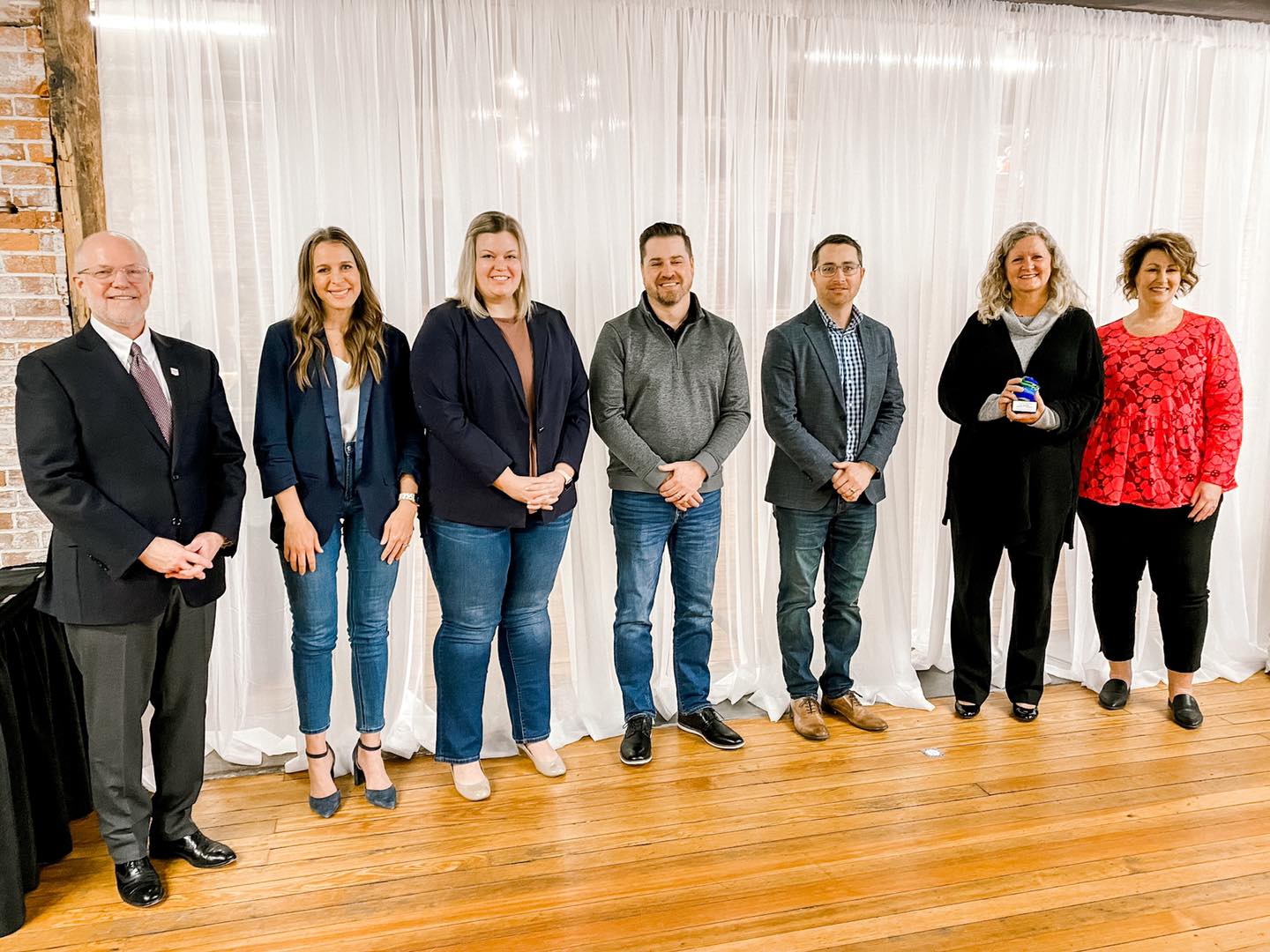 WorkSMART Connector – Mark Putnam, Kate Guess, Megan Green, Matt Buckingham, Scott Burns, Teri Vos, and Karen Eischen
BUSINESS IMPACT AWARD - WORKSMART CONNECTOR
The Business Impact Award is given to a business or organization that is a leader in its field through product development, marketing, technology, or employee programs that have greatly impacted Pella.
WorkSMART Connector. The name says it all. They connect the dots, businesses, and future employees in the communities where we live. With each interconnection, a symbiotic relationship builds the foundation of a workforce pipeline right here in our area.  They don't just impact one business, they impact all of our businesses. With the advancement of partnerships between our schools, industries, and businesses WorkSMART Connector addresses the modern-day challenges of workforce growth and development. 
The concept of WorkSMART Connector derived from conversations, around a table hosted by the PACE Alliance,  of CEOS and Human Resource Departments from the companies in our area. As they  put their heads together and  discussed the obstacles they each faced the question arose "what if the only workforce we had were the residents that existed right here in Marion County?" As the gears began to turn deep thought and insight were given to what we would need to change or develop to build our own workforce pipeline here in our community. "How could we utilize our existing assets to elevate students and adults to their greatest potential within our workforce?" These questions stimulated ideas that eventually developed into an incredible program that serves as a vital resource here in our community. 
With a mindset of innovation and creativity, WorkSMART Connector is a trailblazer. They work alongside middle school and high school students to generate awareness of the jobs and careers available within our local businesses. They construct opportunities to "Earn while you Learn",  encouraging students to stay in our area and immerse themselves in the employment positions offered right here in our community.  They continue to expand their programs centered around five guiding principles:  career awareness, exploration, work-based experience, employment, as well as personal and professional growth.
WorkSMART Connector has received awards and recognition both locally and through the state, including acknowledgment by Governor Reynolds during her Condition of State Address.
Thank you to WorkSMART Connector for the groundbreaking vision you cast upon the employers, residents, and future leaders of our community. You most certainly deserve to be honored with our 2021 PACE Alliance Business Impact Award.
SPOTLIGHT AWARD - CENTRAL COLLEGE FOOTBALL PROGRAM
The Spotlight Award is given to a business, organization, or individual who brought a positive spotlight to Pella through programs, events, marketing, products, or innovation and received regional, state, or national recognition.
The Central College Football Program receives this award for their amazing season and the amplified spotlight they brought to Pella. 
No matter their alma mater, the people of Pella cheered on the Central Football team to an undefeated regular season and a great playoff run. Those accomplishments alone would be enough to receive this award. But, their efforts were beyond just a fabulous winning season. Central College also hosted two playoff games. And, it was definitely a rollercoaster of emotion and excitement when with 7 seconds left in the 4th quarter, Central quarterback Hawkins threw a 3-yard pass in the corner of the endzone to Schminkee for a Dutch win in the second round of the playoffs. In the words of Coach Jeff McMartin "That was a little Dutch Magic"
Speaking of Coach McMartin, he received the American Football Coaches Association Division 3 Coach of the Year award. But, he wasn't the only one to win awards. Quarterback Blaine Hawkins won the Gagliardi Award for the Outstanding Division 3 College Football Player of the year. During his career at Central, he not only was a leader, but a record-breaker. He owns 28 of the 33 records for passing at Central.
Four additional Central Football players were tabbed for the D3 football.com All-American teams. Wide receiver Tanner Schminke (who caught 19 touchdown passes from Hawkins – another Dutch record) joined Hawkins on the All-American 1st team. Offensive guard Josh Mayhew was a 2nd  team pick and defensive linemen Blade Durbala and Hunter Maddy made the 4th team.
The Central Football Program's accomplishment goes beyond their victories on the field. The community outreach of the program spanned wider than perhaps they even know. With Central offering free admission to games this past year the increase in the number of people attending was obvious. Families gathered to cheer on our local team. Kids tossed footballs as they looked up to and rooted for their heroes in red. The whole town of Pella was energized with community enthusiasm and support.
Thank you Central Football Program for your dedication, commitment to the game, and the electrifying spotlight you shone on Pella this past year. Congratulations on receiving the 2021 PACE Alliance Spotlight Award and I'm totally ok if we do it all again next year.
2020 Standing Ovation Award Winners
The Pella Area Community & Economic Alliance is proud to recognize those who went above and beyond to help Pella stay open and safe during the pandemic. The Standing Ovation honorees were nominated by PACE members and selected for creatively navigating the situations and challenges caused by COVID-19 through:
problem-solving
adaptability
ingenuity
resourcefulness
teamwork
generosity
or out-of-the-box thinking!
Congratulations to the Standing Ovation Award winners!
2019 Impact Award Winners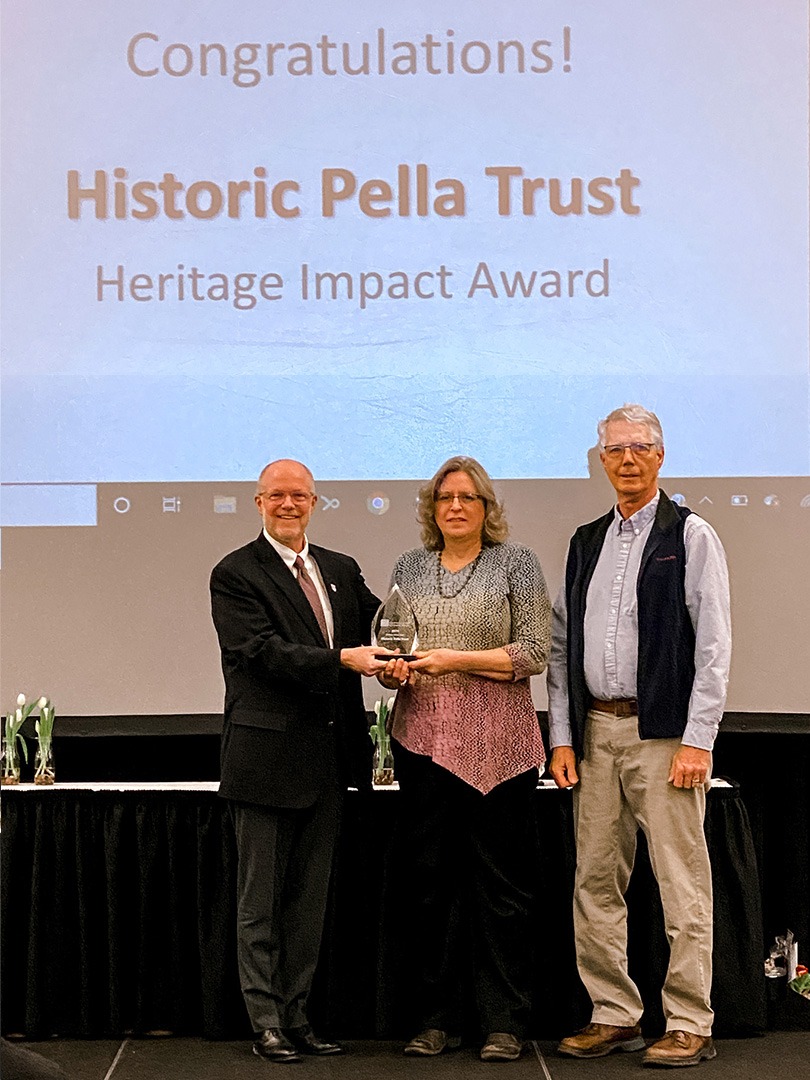 Mark Putnam presented the Heritage Award to Jennifer Van Kooten, Executive Director. and Wayne Stienstra, Board Member of the Historic Pella Trust.
HERITAGE AWARD - HISTORIC PELLA TRUST
The Heritage Award is given to a business, organization or individual who has significantly impacted the heritage aspect of our community.
This year's award went to a non-profit group whose sole mission is to protect and preserve Pella's heritage by advocating for historic architecture that makes Pella so unique. If you've been on Facebook, then you've probably seen the old photos of buildings and people from early Pella. Historic Pella Trust members engage in conversations around remembering the past to keep the legacy alive for future generations.
The Historic Pella Trust was organized in 1994 and serves in a counseling and advisory capacity regarding historically correct architecture and disseminates information regarding restoration and reconstruction of facilities.
Their efforts can be seen in the rescuing of the Tuttle Log Cabin where their office is located, funding for research and documentation of historic homes, and establishing Pella's first historic district – the Collegiate Historic District – which is being added to the National Register of Historic Places.
Other preserved landmarks are the Rock House which dates back to 1856 and the Soul Sleepers Church from 1860. Both buildings have been added to the National Register of Historic Places through the work of Historic Pella Trust.
On the horizon is the Tuttle Learning Walkway in partnership with the City of Pella. This educational project, which is nearly fully funded, will create an entertaining way for children, adults and visitors to learn about Pella's history and heritage through signage and plantings. The Walkway will begin at the homestead of Thomas and Nancy Tuttle and end at Sunken Gardens Park with signs along the way featuring QR codes to scan for more history and photos of Pella.
Congratulations to The Historic Pella Trust for Preserving Pella!
BUSINESS IMPACT AWARD - IOWA BIKE CO.
The Business Impact Award is an award given to a business, organization or individual who has made a significant impact on the business community by being a leader in their field. This year, we presented the Business Impact Award to Iowa Bike Co.
Early in 2017, Kris Van Gent became the second owner of Iowa Bike and Fitness, formerly known as Marty's Schwinn Cyclery.
When the opportunity came to partner on the Boats Furniture building and move in the spring of 2019 to a much-needed larger location, Iowa Bike Co. was born.
Since then, the Iowa Bike team has been focused on changing the way people think about riding bikes by offering quality products and outstanding customer service. And, when rubber meets the road, Iowa Bike Co. has taken their business to a new level by introducing new ideas, new places to ride bicycles, and new ways to serve our community.
Kris and the Iowa Bike team have been the main advocate and facilitator of the Pella bike-sharing program, VeoRide, those bright blue bikes you see in the park that are available to rent and ride using a mobile app.
They've encouraged the development of local trails and the biking community by being an ally of the Red Rock Area Mountain Bike Association, and a key player in the start-up of the Red Rock Mountain Biking Club for students from 7th to 12th grades.
They are a friend to the local Pella Cycling Club, hosted a Girls Night Out, sponsored the Bike Rodeo at Thursdays in Pella, and services all the students' bikes at the annual Pella Christian Grade School bike ride.
Iowa Bike Co. is truly a business leader and we are proud of the work they've done to lead the way for Pella to be bicycle-friendly community with infrastructure and activities for bike enthusiasts. Because according to Kris, "More people on  bikes makes the world a better place." Congratulations to Kris Van Gent and the Iowa Bike Co. team!
COMMUNITY IMPACT AWARD - MICHELLE GRITTERS
The Community Impact Award is an award given to a business, organization or individual who has made a significant impact on our community.
Michelle Gritters is the owner of Digital Galleria, specializing in portrait and wedding photography, and two 9Lilas boutiques in Pella and West Branch. She's a board member of the Pella Historic Downtown Retail Group and Pella's Convention & Visitors Bureau.
In addition, Michelle is the organizer of Let's Shoppe Pella, a network of social media and online platforms built to work together to create awareness and foot traffic for the downtown retailers. The website downtownpella.com, Instagram downtownpella, and Let's Shoppe Pella Facebook page are a powerful three-pronged marketing effort put in place by Michelle, but utilized by 40 different stores and retailers to promote their events and offerings.
Along with establishing this cohesive marketing effort, Michelle organized the Boutique Bus Crawl last August which partnered with boutique owners in Pella and other surrounding towns. The goal was to have fun and Michelle said, "we accomplished that!"
Her ideas didn't stop there. Let's Shoppe Pella is hosting a Personal Stylist Workshop tomorrow from 9 to 11:30 (so there's still time to get tickets!) Michelle adds that all profits from any event planned by the Downtown Group goes directly back into advertising on Facebook and Instagram to bring more people to Pella and encourage Pella locals to shop here as well.
Michelle is not afraid to get involved and is a true representative of what it means to lead by example. She's an outside-the-box thinker and willing to help anyone with marketing ideas because she wants every business to thrive. Her ambition paired with her 'can do' spirit is a rising tide for all downtown stores.
We are truly grateful for everything you have done for Downtown Pella and we are honored to recognize Michelle Gritters as this year's Individual Community Impact award recipient. Congratulations Michelle!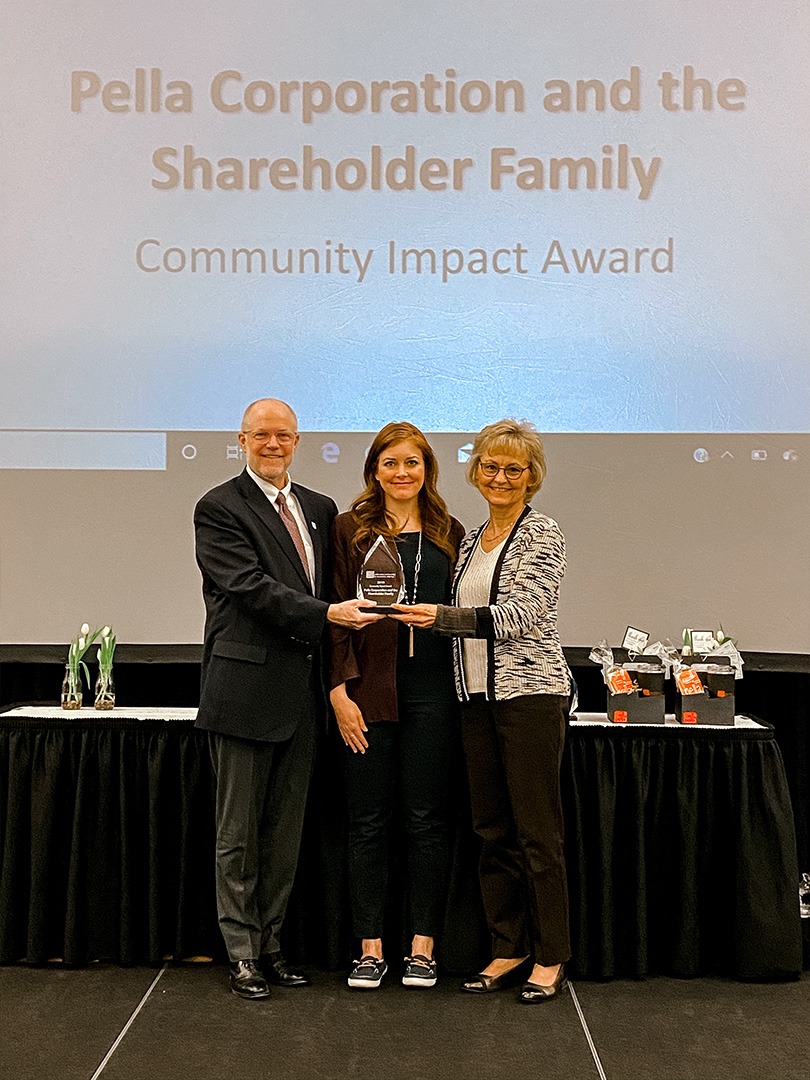 Mark Putnam presented the Corporate Community Impact Award to Karmen Gardner  and Karin Peterson on behalf of the Pella Corporation & the Shareholder Family.
COMMUNITY IMPACT AWARD - PELLA CORPORATION & THE SHAREHOLDER FAMILY
The Community Impact Award is an award given to a business, organization or individual who has made a significant impact on our community.
The Pella Corporation and the Shareholder Family are an integral part of the Pella community – going back to 1925. Founder, Pete Kuyper, created a company that was part of something bigger – a company that helped team members and their communities thrive. Today, Pella Corporation remains steadfast in that mission and continues to invest in our vibrant community so the city of Pella remains a great place to work and live for years to come.
Together with Pella Corporation's shareholder family, the company made significant investments in 2019 to help ensure Pella continues to be a community with a rich Dutch heritage that attracts tourists and provides residents with meaningful opportunities. Their contributions to attracting and retaining talent extend beyond their walls and can be enjoyed by all who live in the area or come to visit.
A few examples include Liberty Street Kitchen restaurant, Prairie Ridge and the South Main housing developments, renovations of the Pella Historical Society and Museums, Scholte House and Wyatt Earp Home, as well as financial support for the Tuttle Learning Walk, which will provide a historic, educational experience alongside the 1843 Tuttle Cabin and Sunken Gardens Park.
When asked what advice they would give a business to help them make an impact, spokesperson, Karin Peterson said something Pella Corporation has been practicing for nearly 100 years…"contribute your time and/or resources in order to enhance Pella's ability to be a place where people want to work and live."
Congratulations to the Pella Corporation and the Shareholder Family as they celebrate their 95th anniversary this year and for everything they do for our community.
SPOTLIGHT AWARD - CENTRAL COLLEGE
The Spotlight Award is an award given to a business, organization or individual who has brought a positive spotlight on the Pella community.
We present this year's Spotlight Award to Central College. As we all know, Central announced in the Fall of 2019 its decision to change tuition centered around making the price easily understandable and more transparent to what students and families actually pay. This news was reported by hundreds of media outlets across the nation, including CNN, NPR News and The New York Times.
What these media outlets didn't get to see were the six years leading up to the announcement, which were devoted to researching and analyzing data surrounding college tuition pricing by Central's Board of Trustees and senior leadership team. In 2019, the board determined the college was fully prepared and ready to make the change and voted to implement the strategy beginning in Fall 2020.
Along with making the tuition announcement, the college was excited to let the public know of several other new programs, including women's triathlon as a new NCAA sport, new clubs and a four-year graduation commitment.
During interviews with media, Mark Putnam, Central College president, spoke candidly about the decision to launch the affordable pricing initiative and Central's continued commitment to the success of students both in college and beyond graduation.
Thank you, Central, for being a treasured and innovative community partner, and for bringing national attention to Pella. Congratulations to Central College for the Pella Spotlight Award!
​