One Million Dollar Mark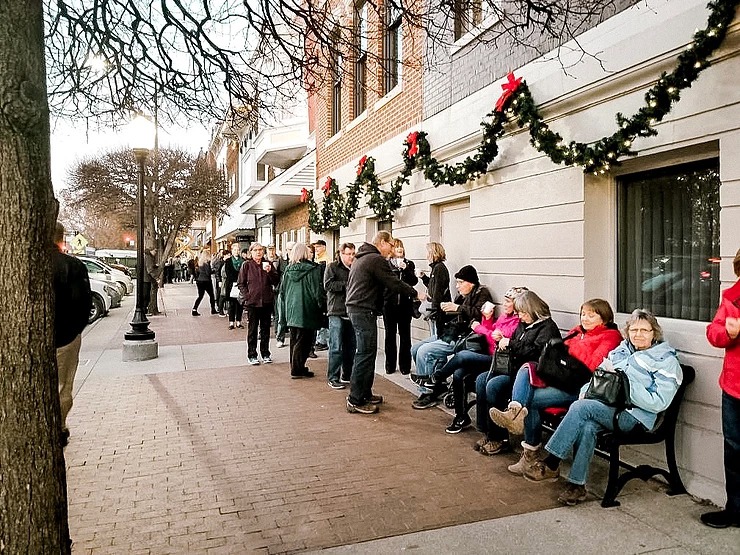 About the same amount of time it would take you to drive to Des Moines, Marion County Bank sold all $100,000 of discounted Pella Bucks last Monday evening to kick-off the Christmas shopping season in Pella during "De Kerstdagen/Tour of Stores."
"It's not our record time, but it took just 55 minutes to sell out! We even had to turn people away which is a hard thing to do," said Teresa Ulferts, Vice President & Marketing Officer at the bank.
Holiday shoppers lined up past Opa's Deli down to the end of the block to purchase Pella Bucks at a 10% discount, money that can only be used at PACE Alliance member businesses.
For a decade now, Marion County Bank has sold $100,000 of pre-paid checks on the Monday evening before Thanksgiving reaching the 1 million dollar mark and an underwriting cost of $100,000 for the bank.
"We are passionate about supporting our local businesses and one way we have shown this is through our Discounted Pella Bucks promotion. The cost of this promotion is truly an investment into the Pella community," said Ulferts.
Marion County Bank invests in this promotion:
To encourage local Christmas shopping.
To support our local business customers.
To support economic growth in our community.
"When we choose to keep our Christmas shopping local we are building community. Shopping locally keeps more money in our local economy, supports local jobs, and celebrates the uniqueness of Pella," she said.
Perfect November weather contributed to a quick sellout on Monday, November 25. Pella Bucks are sold from Marion County Bank's Pella office by bank staff, on behalf of the PACE Alliance which is the account administrator for Pella Bucks. Discounted Pella Bucks expire on January 18, 2020.
During the event, Marion County Bank staff served homemade Dutch letters and hot apple cider to those waiting in line.
Missed the discounted Pella Bucks on November 25 but love the idea of keeping dollars in our community? Pella Bucks make great gifts any time of the year and can be purchased (face value) year-round at the PACE Alliance office, 818 Washington Street.